Ukrainian Activist Group Accuses Belarusian KGB Of Kidnapping, Abuse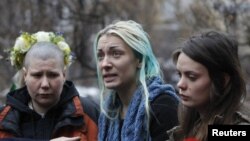 A Ukrainian women's activist group has accused Belarusian police of kidnapping and physically abusing them after they held a public protest against President Alyaksandr Lukashenka in Minsk.

RFE/RL's Ukrainian Service reported that three members of the Femen group held a press conference in Kyiv on December 21 to talk about their ordeal, which they said involved their abduction from Minsk by members of Belarus's KGB to a distant forest, where they were stripped, doused with oil, and physically threatened.

Activist Inna Shevchenko pledged that her group won't stop because of threats.

"If they think that by this bullying they will break us, I can only laugh in response," she said. "We promise that we will continue coming to Belarus. We promise to support the Belarusian people. We will continue our work, now with greater strength."

Femen is well known in Ukraine and throughout the region for its attention-grabbing strategy of stripping from the waist up at demonstrations for political freedom and women's rights.

Their December 19 protest in Minsk was held to mark the one-year anniversary of Lukashenka's disputed reelection.

Bare-chested and wearing fake Lukashenka-style mustaches at the December 19 event, the women held placards that read "Freedom to political prisoners" and "Long live Belarus," a mantra of the protest movement.

RFE/RL's Belarus Service reported that security agents quickly broke up the demonstration and arrested several journalists.

Alleged Beatings

The three activists fled, Femen said, and hours later were abducted at a Minsk bus station, blindfolded, and driven to the Homel region, about 200 kilometers southeast of the capital.

According to the three women, they were taken to a forest, beaten and forced to undress, doused in oil, and threatened with immolation.

The group says the assailants cut the women's hair with knives and abandoned them in the woods.

The three found their way to a village where they were given refuge by locals and were able to call Femen's leader, Anna Gutsol, for help.

Gutsol told RFE/RL that the women said they were "alive but not in good health" and "very scared."

The Ukrainian Foreign Ministry said the three women returned to Ukraine earlier on December 21 along with Kyiv's consul to Minsk, who had traveled to the village to investigate.

WATCH: Members of Femen talk to the press in Kyiv about their experience in Belarus

Ministry spokesman Oleksandr Dikusarov told RFE/RL's Ukrainian Service that even though the women did not have permission to protest, "there are certain internal legal norms" that govern punishment for unsanctioned actions.

He added: "Thus, we absolutely do not support it if such actions took place on the territory of Belarus.... This situation requires a thorough investigation, including on the territory of Belarus."

In response to a question about Femen's allegations, Ukraine's foreign minister, Konstantin Grishchenko, also told RFE/RL's Ukrainian Service that Ukraine should defend its citizens abroad. He did not mention Femen.

Belarus Calls Claims 'A Provocation'

At the Femen press conference, Shevchenko claimed she and her fellow activists had told the police their story and were promised that there would be an investigation.

"We demand that the Belarusian ambassador [to Ukraine] be expelled," she said. "We demand an investigation of the KGB employees who bullied us. We testified to the police, and we received a promise that a criminal case will be opened, but we have doubts about it because we understand that everybody is working to strengthen the Lukashenka regime."

Vadim Zaitsev, a spokesman for the Belarusian KGB, told Western news agencies that Femen's allegations are "a provocation" and denied security officers had harmed or threatened the women in any way.

Lukashenko, who is often called "Europe's last dictator," has been in power since 1994.

He was declared the winner in last year's elections, but tens of thousands of Belarusians protested alleged vote fraud.