UN Rapporteur Condemns Prison Overcrowding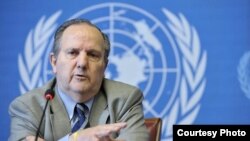 A senior UN official has said that overcrowding in prison amounts to ill treatment or torture.

In a report issued in New York on October 22, UN Special Rapporteur on Torture Juan Mendez estimated there are 10 million prisoners worldwide and that this population is "placing an enormous financial burden on states."

He added that UN standards on the treatment of prisoners were adopted more than half a century ago and no longer fully comply with international human rights law.

Mendez said the standards should also be extended to apply to mental institutions and police stations.

Mendez also urged the United States to improve prison conditions for Albert Woodfox, a former Black Panther member who was convicted of killing a Louisiana prison guard.

Woodfox has been held in solitary confinement for more than four decades.


Based on reporting by AP and AFP
About This Blog
"Watchdog" is a blog with a singular mission -- to monitor the latest developments concerning human rights, civil society, and press freedom. We'll pay particular attention to reports concerning countries in RFE/RL's broadcast region.
Journalists In Trouble
RFE/RL journalists take risks, face threats, and make sacrifices every day in an effort to gather the news. Our "Journalists In Trouble" page recognizes their courage and conviction, and documents the high price that many have paid simply for doing their jobs. More