The U.S. State Department has marked International Women's Day by designating 10 women from around the world "International Women of Courage," hailing them as "remarkable" people whose "quiet moral authority has come from putting the well being of others before their own."
This year's honorees include women who work to combat domestic abuse in Afghanistan and "honor killings" in Jordan, who defy authoritarianism in Belarus and promote education for girls in Pakistan, as well as a women who is leading Kyrgyzstan as it navigates a path as the first parliamentary republic in Central Asia.
At this year's ceremony, Clinton gave a nod to the democratic revolutions sweeping the Arab world, telling would-be reformers that it is time to let women in on the decision-making.
Clinton said women, who have taken to the streets in equal numbers as men, "have now insisted that their voices be heard." She said that "in the coming months and years, the women in Egypt and Tunisia and other nations have just as much right as the men to remake their governments -- to make them responsive, accountable, transparent."
A Kyrgyz First
Kyrgyzstan's Roza Otunbaeva became the first head of state ever to earn the State Department honor. Clinton said the 60-year-old president was chosen because of her "tremendous courage, leadership, and tenacity."
"She is a president who knows how to lead, but she also knows how to let go, because she has set an extraordinary example of what it means to relinquish power," Clinton said. "She decided early on she would help to set up a new government, have a new constitution, and when the time came after the elections were finished, she would turn over powers to the new prime minister and that government. In so doing, she has offered an invaluable lesson to fledgling democracies everywhere."
Clinton said Otunbaeva stands "as an example to many leaders around the world about what democracy and power should be used for, to help the people that you are supposed to serve," and that, "in the face of a collapsing government, regional divisions, economic privation, she emerged as unifier, someone who kept Kyrgyzstan whole after tragedy and upheaval."
Otunbaeva became the interim leader of Kyrgyzstan in April, 2010, following an uprising that ousted President Kurmanbek Bakiev. She has said that she will not run for reelection in an election scheduled for October.
In accepting the award, Otunbaeva paid tribute to her countrywomen.
"I accept this award on behalf of all the women of Kyrgyzstan who struggle from day to day to make their voices heard," Otunbaeva said. "This award belongs to those who, despite their condition, rise above and demand respect for their human dignity."
She dedicated the award to what she called the "millions of nameless and heroic women" and pledged to continue to work for social justice and the rule of law.
Otunbaeva's selection has been challenged by an Uzbek woman who received the same U.S. honor in 2009. Mutabar Tajibaeva has stated publicly that
she will return her award
to protest Otunbaeva's inclusion, accusing her of failing to prevent bloodshed that in most cases targeted ethnic Uzbeks in June 2010.
Afghan 'Resilience'
Forty-year-old Maria Bashir, who is the prosecutor general in the attorney general's office in western Afghanistan's Herat Province, was honored for what the State Department called "her determined campaign against crime and corruption."
Bashir secretly taught women at home under the fundamentalist Taliban regime in Afghanistan.
"For a lifetime of selfless dedication to the pursuit of justice, the rule of law, human rights, and freedom of expression at great cost to herself, her physical safety, her family, her acceptance by her society, she has never wavered, and for that we give you this award," Clinton said.
Bashir secretly taught women and girls at home under the Taliban regime and was able to resume her career as an investigative prosecutor only after the regime fell in late 2001. In 2006, she became the only woman in Afghan history to hold the position of prosecutor general.
The State Department noted that in that role, she has "become a champion of judicial transparency and women's rights, and exemplifies the resilience of Afghan women," handing 87 cases of victims of domestic abuse in 2010 alone.
Pakistani Honoree
Ghulam Sughra, of Pakistan, was honored for her work with Marvi Rural Development Organization (MRDIO), an NGO focused on creating community savings funds and raising awareness of education, health, human rights, and social-development issues.
The 40-year-old Sughra began MRDO to help her home village, and it has now expanded to the rural Sindh, Punjab, and Baluchistan provinces. As a girl of 12, she was forced into marriage and, six years later, she became the first woman in her village to divorce -- a move that made her a social outcast.
Severely beaten by her brothers when she tried to attend school, she pursued her studies at home, eventually becoming her village's first female high-school graduate and the first teacher at the first school for girls.
Clinton said Sughra has "lived a life that demonstrates unequivocally that one person can make a difference."
"For sheer determination and strength to overcome poverty and gender discrimination and to help other rural women in your village and far beyond have a chance to be educated and to educate their children and to provide a better future to transform their own lives, we are so proud to present you with this award," Clinton said.
Belarusian Courage Under Fire
The youngest recipient of the U.S. award this year is 20-year-old Nasta Palazhanka of Belarus, who was unable to attend the ceremony.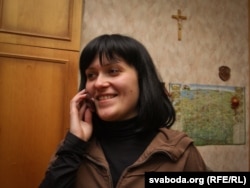 Palazhanka after her release from KDB (KGB) detention in February 2010
Palazhanka is the deputy chairwoman of Malady Front (Youth Front), the largest youth democratic organization in Belarus. She joined the opposition youth movement at the age of 14, and symbolizes what the State Department called "the extraordinary potential of civil activism in Belarus," where authorities continue a sweeping clampdown after public outrage over a flawed presidential election in December.
In remarks to RFE/RL, Palazhanka paid tribute to the election critics, many of whom were beaten when they joined election-night protests and remain in jail on charges of fomenting "mass unrest."
"For me this award -- especially thanks to all those people who came on December 19 to the square [in Minsk], is the pride of my friends from Youth Front...[and] for anyone who is still in jail," Palazhanka said. "And certainly, when this prize is awarded to women, I cannot fail to mention the courageous Irina Khalip and Natallya Radzina, with whom I was together in prison. Therefore this award is ours collectively -- I do not think it is personally my prize."
Authorities under third-term Belarusian President Alyaksandr Lukashenka are currently in the process of sentencing demonstrators and administration critics to long prison terms for their roles in the protests, as well as debarring lawyers representing some of the accused.
In naming Palazhanka a Woman of Courage, the State Department noted that she has been "threatened and subjected to politically motivated pressure and harassment against herself and her family, but continues to advocate for civil society freedoms and promote respect for fundamental human rights."
"Nasta Palazhanka of Belarus -- she has been living through such a difficult time," Clinton said. "A country right in Europe that is still oppressing its people, rigging elections, jailing political opponents in the most brutal and oppressive ways is an intimidating force, but she has stood up and spoken out."
Despite repeated imprisonments, Clinton said Palazhanka remains resolutely committed "to promoting civil society and bravely helping to chart a peaceful path for democratic society."
The other six honorees hail from Hungary, China, Jordan, Mexico, Cuba, and Cameroon.