When a few hundred oil workers in southwestern Kazakhstan launched a strike to demand higher wages in early May, no one expected the protest would last long or have much of an impact.
But what began as a small-scale strike has awoken the country's long dormant labor movement, and is growing into the greatest organized challenge the Kazakh government has faced in 10 years.
"We will continue [our protest] until the end," said one striker in the port city of Aqtau, who gave his name only as Kelbaev. "As long as we don't get what we are demanding, until we get higher wages, we will remain here [on strike]."
The strikes have expanded in scope and scale. The initial protest at the Karazhanbas oil field near Aqtau has swelled to include thousands of oil workers.
Not far from Karazhanbas, transportation workers are striking at the OzenMunaiGaz company, disrupting oil deliveries. Miners' and gas-workers' unions have expressed solidarity, and in the northern city of Kokshetau, investors in the KazRosInvestproyekt limited-liability company have been protesting for three weeks.
According to Kelbaev, the strike in Aqtau is falling on deaf ears in the capital, Astana, 1,700 kilometers away. "We have been speaking only with local officials," he said. "No one from the government [in Astana] has come and met with us. They are not even paying attention."
High Stakes
But the ultimate goal is to be heard by the Kazakh government, which was accustomed to large protests in the 1990s when its seat was in Almaty and the population was clamoring over unpaid wages.
Since then, however, the country's rising oil revenue and accompanying improvement in the standard of living has helped relegate protests to small, local affairs centered on narrow issues.
The opposition is watching events closely, with parliamentary elections scheduled for 2012, hoping to imitate these rallies and tap into popular sentiment during next year's election campaign.
The stakes are high, with both registered and unregistered parties preparing to enter a parliament whose seats are filled entirely by members of the ruling party, Nur-Otan.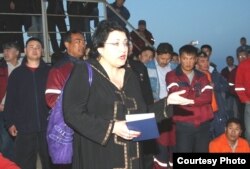 Labor union lawyer Natalya Sokolova has been detained for "igniting social hatred."
The protests began on May 10, according to one participant, when several hundred oil workers at the Karazhanbas field stopped working and demanded better contracts, including higher wages.
One week later there were some 1,000 Karazhanbas workers on strike. Some declared a hunger strike to draw more attention to their situation, a tactic that has had limited success.
State media avoided reporting on the issue as much as possible, but that began to change with the arrest of Natalya Sokolova, a lawyer from the local unions.
Sokolova was detained on May 21 at a demonstration outside the Aqtau police headquarters and jailed for eight days on May 24 for "organizing an unsanctioned mass gathering."
On the day she was to be released, the authorities brought charges of "igniting social hatred" and ordered her kept in detention while an investigation was conducted.
The number of striking oil workers at Karazhanbas had grown by then to several thousand, including scores who were fired in late May for being absent from work, and freedom for Sokolova was added to their demands.
After strikers demanded to see Mangistau provincial Governor Kyrymbek Kosherbaev, police moved to break up demonstrations on June 5, arresting 37 protesters. Two protesters publicly slashed their stomachs at the scene, adding to the four hunger strikers who had been hospitalized.
One of the protest leaders, Kuanshy Seisenbaev, indicated to RFE/RL's Kazakh Service that no progress had been made toward resolving the situation.
"Right now all work has stopped [at the oil field]," he said. "The akim [governor] doesn't want to listen to us. Our demand is raise our salaries!"
One of the participants claimed the strikers are looking at ways to cut production. "The company produces 500,000 tons [of crude oil] a day," he said. "It usually works automatically but operators should control the process."
The same worker said some 500 people were maintaining the strike as of June 13, but added that there are some 4,000 workers still refusing to go to work until demands are met. He said the oil field's owner, Karazhanbasmunai, has bussed in some 500 people to replace the striking workers.
Wage Disparity
At the nearby OzenMunaiGaz company, a strike begun by 900 drivers on May 26 has led the company to acknowledge that 2,000 tons of oil are being left undelivered daily. Fifty-three workers have been fired by OzenMunaiGaz.
At the heart of these workers' demands for higher pay is the disparity between what Kazakh workers are paid and the high salaries foreign workers at the same sites receive.
This grievance is shared in industries that have the similar situations with foreign workers and investors, leading to support from the country's miners' and gas workers' unions.
And word is spreading through Kazakhstan. The state media's lack of coverage means that many Kazakhs are unaware of the details of the strikes, such as the oil workers' demands, but it is known that sustained protests are taking place. Smaller rallies are beginning to break out in other areas of the country.
In the northern city of Kokshetau, investors in the KazRosInvestproyekt company have been protesting since May 26. Hundreds have demonstrated since the authorities closed the company, accusing its leadership of running a pyramid scheme.
The protesters have often blocked roads in the city center and surrounded the building where KazRosInvestproyekt has its office. Clashes between demonstrators and police on May 31 resulted in three people being hospitalized after large fight and an unexplained shoot-out.
KazRosInvestproyek promised everyone who invested 100,000 tenges (some $680) in the company 400,000 tenges in return. Protesters are not convinced the company intended to steal their money and are demanding the release of founder Bakhyt Adilova from custody.
Watching And Waiting
Advocacy groups for people who lost, for various reasons, their homes in the Almaty area have stepped up their activities recently.
Footage broadcast by the Kyrgyzstan-based channel K-Plus shows members of such groups boldly confronting police. This new spirit of defiance is something seen with increasing frequency in Karazhanbas and Kokshetau also.
Authorities have done little to stop these growing demonstrations. Kazakh authorities seem to be pondering the clashes between protesters and police in Karazhanbas and Kokshetau and weighing the potential for something bigger.
They may not have long to consider their next move.
Known associates of government opponent Mukhtar Ablyazov have been seen at Karazhanbas speaking with striking workers.
Ablyazov was one of Kazakhstan's most successful businessmen, briefly a state official and also briefly (until he was jailed) an opposition figure.
He now lives in Britain, having fled Kazakhstan amid charges he embezzled huge amounts of money from one of Kazakhstan's biggest banks while he was the bank's director.
Ablyazov is suspected of supporting opposition groups back home and has posted messages on independent websites accessible in Kazakhstan.
In one, from June 7 titled "You're right, they're cheating you," Ablyazov said the parent company of OzenMunaiGaz and Karazhanbasmunai -- KazMunaiGaz -- is paying millions of dollars in dividends to investors each year while Kazakhstan's workers receive paltry wages.
Ukulyay Bestayeva of RFE/RL's Kazakh Service contributed to this report