SHAIDOMA, Russia -- Experiencing the inside of a World War II-era prison camp might be something one would hesitate to wish on their worst enemy.
But it is exactly what one nongovernmental organization hopes to provide for as many Russian children as possible.
The Open Opportunities (Otkrytye vozmozhnosti) charity, which provides assistance to children with disabilities and their families in the northern region of Karelia, plans to erect a facsimile of a Finnish prison camp from World War II as a tourist attraction to be opened in time for the 75th anniversary of the end of the war in May.
The controversial project has stirred passions in a region still grappling with its Soviet and wartime history and has thrown a spotlight on how the Russian authorities are presenting the war to the next generation.
"One has to tell the truth about our difficult past to children carefully, taking into consideration the peculiarities of child psychology," said Irina Takala, a Karelian historian who opposes the plan. "I think we need to change our aggressive, militaristic politics of memory, especially as far as children are concerned."
Galina Vasilyeva, a city council member in Petrozavodsk, the regional capital, is also skeptical of the project.
"Why is a charity that helps handicapped children taking up this problem?" she said in remarks to RFE/RL. "They don't have anything else to do with their money? They don't have other problems? They should think a little bit about the psyches of those kids."
Open Opportunities has taken possession of the prison-camp set used for the 2019 film Vesuri, which tells the story of children who were interned in a camp during the war, and plans to reerect it at an as-yet-undetermined location in Karelia as an open-air attraction aimed at educating the public about this aspect of the Soviet Union's war experience.
"When Vesuri premiered in the spring of 2019, schoolchildren were saying that they did not know about the existence of Finnish camps in Karelia," said Open Opportunities Director Natalya Abramova. "It was important for our foundation to preserve the sets, particularly since we participated in making Vesuri."
Karelia Governor Artur Parfenchikov has endorsed the museum project, writing on the social-media site VK that "schoolchildren will be brought on excursions to this unique museum of memory, which will be of interest to them both as a movie set and [a view into] the history of labor camps."
The uber-patriotic film Vesuri was produced with a grant from the Culture Ministry, and Open Opportunities, which was founded in 2017 and specializes in holding athletic competitions and organizing excursions for disabled children, has been given a 2.8 million ruble ($42,200) government grant to create the museum. After filming was completed, the prison-camp set was dismantled and stored in the town of Shaidoma, some 150 kilometers north of Petrozavodsk.
An unpaved road covers the last 20 kilometers.
"If they are going to bring tourists here, I hope they will repair the road," a local man who asked to be identified only as Sergei told RFE/RL. "What do we really need? A road. And maybe there will be some jobs. After all, we have unemployed people in our village and they'll need watchmen, guards...
"I think if there is space, why not build a museum?" he added. "It makes sense. We have children as old as 15 who have never heard of Hitler."
Others are not so sanguine, noting that there were no Finnish labor camps in the Shaidoma area during the war, although there was one about 15 kilometers away near the town of Kyappeselga.
"There is a concept in history known as genius loci: the spirit of a place," said Mikhail Goldenberg, director of the Karelia National Museum in Petrozavodsk. "There is no history of this sort in that area. To my mind, you could make a museum or cultural site about the history of how the film was made. If that's what they want, then God be with them…. But to tell the history of the camps on the basis of a movie set – War is not a children's show, but a very serious thing."
The Karelia region's wartime history is particularly complex. The Soviet Union invaded Finland in November 1939, seeking a buffer of Finnish territory to help protect Leningrad in the event of war with Nazi Germany. Although the Finns fought back fiercely, the war ended in Finnish defeat in 1940, and Finland was forced to cede western Karelia and some other territories farther north.
After Germany attacked the Soviet Union in June 1941, the Finns retook the territory lost after the Winter War and occupied eastern Karelia as well. This action made Finland a co-belligerent with Germany against the Soviet Union. During the war, Finland opened between 15 and 20 labor camps in occupied eastern Karelia where Soviet civilians were forced to harvest timber, build roads, and carry out other similar tasks. Children were forced to harvest willow bark, which was used to tan leather.
Historians believe about 4,500 Soviet civilians died in the camps, many of starvation.
The region's history has been in the headlines nationally for some time now. For several years, prominent local historian Yury Dmitriyev has been battling child-pornography charges that he and his supporters say were brought to hinder his work exposing Stalin-era crimes in Karelia – including summary executions and mass graves.
Beginning in 2018, the Kremlin-friendly Russian Military-Historical Society, headed by former Culture Minister Vladimir Medinsky, sent an expedition to the region with the goal of finding evidence that Soviet prisoners of war had been executed there by Finnish soldiers. Critics say the purpose of the expedition is to muddy the region's history and downplay Stalin's crimes against Soviet citizens.
Klavdia Nyuppiyeva is a pensioner who was held as a child in a Finnish camp in Petrozavodsk.
"We slept on the floor," Nyuppiyeva told RFE/RL. "My older sister and I had one pair of shoes between us, so it was impossible to go outside in the winter.
"There were guard towers and two rows of barbed wire," she recalled. "There was a sign saying guards would fire on anyone entering or leaving the camp without permission or holding conversations across the wire."
That camp, known simply as No. 5, is now a residential neighborhood in the city, called Village No. 5. People still live in the wooden structures that served as prisoner barracks during the war.
Lenina Makeyeva, also a pensioner in Petrozavodsk, spent two years and eight months in the Petrozavodsk labor camp, beginning when she was 5 years old.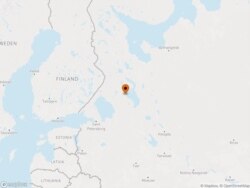 Like Nyuppiyeva, Makeyeva supports the idea of setting up the faux prison camp and bringing children to see it.
"We should show the conditions in which people their age had to live," she said. "What kind of physical work they had to carry out."
Historian Takala, however, says that instead of a replica prison camp, the region needs a professional museum dedicated to the entire period.
"We need to tell about the repressive policies of the [Stalin] government," she said. "We need a gulag museum, or at least a museum about the White Sea-Baltic Canal camps" – a reference to Soviet labor camps whose inmates were forced to build a waterway under desperate circumstances. As many as 25,000 died before it opened in 1933.
Takala is particularly concerned about what she describes as the jingoistic way World War II is being presented to young people in Russia these days. She deplores the practice of dressing small children up as soldiers, decorating children's prams as tanks, or posing kindergarteners as wounded partisans.
"This is self-righteousness and has nothing to do with patriotic education," she argued. "Our society today is divided by the politics of history, and the government is provoking these divisions. As long as our tragic past is not dealt with, as long as Stalin's Terror is not condemned as a state crime, this past will continue to divide society in the future. And we will see more arguments about whether Stalin was an 'effective manager' or a murderer.
"The state should be interested in helping society unite around an assessment of its past so that it can move on," she said. "Without that, there can be no moving forward."