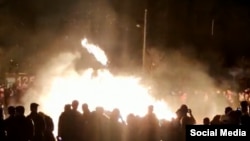 Iranian protesters have staged fresh anti-government demonstrations by taking to the streets during the Sadeh festival, a traditional ancient celebration in which fire is used to defeat the forces of darkness and cold.
Protesters in Tehran's Ekbatan neighborhood celebrated the Sadeh festival by lighting huge fires, saying they showed the depth of their anger toward the government's intrusion on their freedoms and chanted "death to the dictator," a reference to Supreme Leader Ayatollah Ali Khamenei. Similar scenes were repeated in the Iranian cities of Yazd, Kerman, Shiraz, Kermanshah, Kerman, and Mashhad.
Sadeh in Persian means "hundred" and refers to the 100 days and nights remaining until the beginning of spring.

The festival, which took on an extra meaning this year after several months of unrest that threatens to tear the country apart as protesters fight for women's and human rights.

The unrest was sparked by the death of Mahsa Amini on September 16. The 22-year-old died while in custody after being arrested by the notorious "morality police" for "improperly" wearing a mandatory Islamic head scarf, or hijab.

Her death, which officials blamed on a heart attack, touched off a wave of anti-government protests in cities across the country. The authorities have met the unrest with a harsh crackdown that rights groups say has killed more than 500 people, including 71 children.

Officials, who have blamed the West for the demonstrations, have vowed to crack down even harder on protesters, with the judiciary leading the way after the unrest entered a fourth month.

The protests pose the biggest threat to the Islamic government since the 1979 revolution.

Several thousand people have been arrested, including many protesters, as well as journalists, lawyers, activists, digital rights defenders, and others.
Written by Ardeshir Tayebi based on an original story in Persian by RFE/RL's Radio Farda