Latvia Refuses Visa To Russian Politician Over Language Issue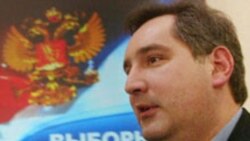 Dmitrii Rogozin Riga, 27 February 2004 (RFE/RL) -- Latvia has refused to issue a visa to the deputy speaker of the Russian Duma, Dmitrii Rogozin, amid rising tensions over a law that will increase use of the Latvian language in the country's schools.
Latvian Foreign Ministry spokesman Rets Plesums confirmed the visa refusal, citing what he called Rogozin's lack of will for constructive dialogue.

Rogozin, known for his tough position on ensuring the rights of Russian speakers abroad, was planning to attend a congress of Russian schools in Latvia, in early March.

Tensions have risen between Latvia and Russia after Latvia recently adopted a law that mandates that 60 percent of classes taught in the country's 159 Russian-language secondary schools must be in the Latvian language.