Afghanistan: President Announces Postponement Of Elections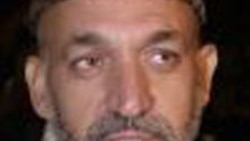 Kabul, 30 March 2004 (RFE/RL) -- Afghan Transitional Administration Chairman Hamid Karzai has announced that presidential and parliamentary elections will take place in September, three months later than originally planned.
Karzai told reporters today in Kabul that the delay would allow presidential and parliamentary elections to be held at the same time.
"We are focused on having both presidential and parliamentary elections at the same time. The [United Nations] and the electoral commission said, 'If you want the presidential election, we can have it on time, but if you want both the presidential and parliamentary elections together, it is not possible due to some technical problems.' That is why we have decided to have them both in September."
One technical problem is that the Afghan government needs to register enough voters to give the election legitimacy. UN officials say they hope to register about 10 million voters. But the latest UN figures show that only 1.6 million Afghans have been registered so far.
UN officials say they hope to register about 10 million voters. But the latest UN figures show that only 1.6 million Afghans have been registered.
Few Afghans have been registered in the regions outside of the country's main cities. But the UN, which is helping organize the vote, has a plan to enroll millions of voters during a nationwide registration program in May.
The top UN envoy in Afghanistan, Jean Arnault, welcomed the election delay. He said it would allow time for NATO to expand its peacekeeping and security operations outside of Kabul before the vote.
Security remains a key concern -- particularly outside of the capital Kabul -- nearly three years after the Taliban regime was ousted in a U.S.-led military operation. Karzai said today that security would be a top issue for him during the election campaign.
"The question of security for the Afghan people, now, in the future, in the building of national institutions that will enable us to provide our own security in our country, will be something that I will concentrate on extremely heavily on," he said. "This will be my main topic, one of the main topics."
Karzai's announcement follows a report last week by UN Secretary-General Kofi Annan warning that elections, reconstruction, and human rights are threatened in Afghanistan by lack of "medium- or long-term" security."
One program aimed at improving security continued moving forward -- the gradual disarmament of militia units. Yesterday, artillery pieces and tanks rolled out of Kabul as Afghan government forces started the final phase of removing unauthorized armor and weapons from the capital.
At a ceremony marking the event, the deputy commander of the International Security Assistance Force (ISAF), General Wolfgang Korte, praised the militia commanders who sent their weapons into storage. He said the disarmament could encourage international donors meeting in Berlin this week to give more money for Afghanistan's reconstruction.
"The world is watching. The Berlin Conference [for donors to Afghanistan] is approaching quickly and today's event marking the beginning of the completion of heavy weapons cantonment [storage] in Kabul, will serve to build confidence in donor nations," he said. "They can see that their commitment is bearing fruit and they will be encouraged to stay the course in supporting the Afghan people."
Afghan officials are promising to begin the removal of unauthorized weapons from areas outside the capital within days, which could prove far more difficult. They also outlined plans to demobilize nearly 40,000 militia soldiers by the end of June.