Chechnya: Concerns About Safety As Presidential Voting Continues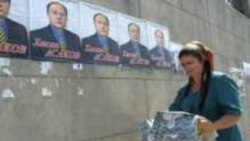 Voting in the separatist Russian republic of Chechnya began amid tight security today in an election to replace Chechen President Akhmed-hadji Kadyrov, who was assassinated in a bomb attack in May. Seven candidates are competing for the job, including frontrunner Alu Alkhanov, who is supported by the Kremlin. A man blew himself up near one polling station in Grozny about three hours after it had opened. No other casualties were reported. But correspondents report widespread concern about safety among voters in the republic.
29 August 2004 -- Presidential elections in Chechnya were struck by violence just hours after voting began today when an unidentified man attempted to smuggle a bomb inside a polling station in Grozny's Zavodskoi District.
Central Election Commission spokesman Abdul-Kerim Arsakhanov says the man ran away and detonated the bomb on a street nearby when police tried to search him. Russian television broadcast images of the attack site, showing a large pool of blood on a street outside the voting station.
No other casualties were reported.
Arsakhanov says the blast did not cause panic and that voting is continuing. He also told Russian state television that everything has been done to conduct a normal, free, and democratic election.
Voters in Grozny are expressing concern about safety during the ballot and in the republic itself in the months ahead. Among them is Bainurbek Yekhjyaev -- a resident of Grozny who was awarded 100 rubles (about $3) by the local election commission for being Grozny's first voter today.
"I am for peace and stability in Chechnya. I don't want a return of those black days which Chechen people spent in caves and cellars without food and water. God give us all [peace and stability] as of today," Yekhjyaev said.
In a bid to encourage voter turnout, Khamzat Kukaev, Grozny's local election commission chairman, says first-time voters are being offered rewards.
"The first voter is getting from us -- from the local election commission -- 100 rubles as an award. All the others who come to vote for the first time will get a copy of the constitution of the Chechen Republic," Kukaev said.
Acting Chechen President Sergei Abramov said that by midday today, more than 30 percent of the electorate had turned out, the level needed to consider the election valid.
"I am for peace and stability in Chechnya. I don't want a return of those black days which Chechen people spent in caves and cellars without food and water."
Security is high across the republic, with some 14,000 Chechen police patrolling the streets near the voting stations alongside Russian military troops. Chechen separatist fighters have vowed to disrupt the vote. Authorities today were stopping cars from parking within at least 15 meters of the buildings where the polling stations are located.
The Chechen vote has been overshadowed by the near simultaneous crashes on 24 August of two passenger airplanes in Russia, which some Moscow authorities are linking to Chechen separatists.
Officials in Moscow said yesterday that they have found traces of explosives on the wreckage of both planes, which crashed south of the Russian capital, killing 90 people. The investigation is reported to be focusing on two women passengers with Chechen names who boarded each plane.
Separatists have fought for a decade to win independence for their largely Muslim homeland and to push out Russian military forces.
(Agencies)