Vote Counting Begins In Afghanistan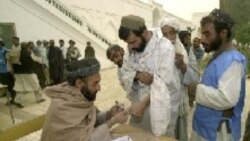 14 October 2004 -- Afghanistan's election commission says that it has approved starting today counting the votes cast on 9 October in the country's troubled election.
The decision came as foreign experts worked through a final handful of complaints from candidates in Afghanistan's first-ever presidential election.
A panel of three election experts said it has quarantined ballots from only 10 polling stations so far -- out of the country's 20,000. Officials said these votes will enter the vote-count stream later.
A final result is expected to be announced late this month. Transitional Administration Chairman Hamid Karzai is widely expected to win over the 15 other candidates.
The election panel was created to review the balloting after candidates challenging Karzai complained that election-day problem developed in some polling stations with the ink used to stamp voters' thumbs to prevent multiple voting.
(AP/AFP)
[For more on the Afghan elections, see RFE/RL and Radio Free Afghanistan's dedicated "Afghanistan Votes 2004-05" webpage.]