Afghanistan: Vote Count, Finally Under Way, Is Paused For Start Of Ramadan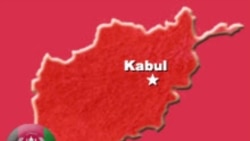 After a delay of nearly a week, vote counting in Afghanistan's presidential election finally got under way yesterday -- only to be put on hold again today for celebrations marking the start of Ramadan. So far, with only about 26,000 valid ballots counted, transitional leader Hamid Karzai has garnered about 59 percent of the vote. But an estimated 8 million ballots remain to be tabulated before final official results can be announced.
Kabul, 15 October 2004 (RFE/RL) -- The eight regional vote-counting centers across Afghanistan were quiet today as election workers took the day off to celebrate the start of the Islamic holy month of Ramadan.
Faruq Wardak, the chief of the secretariat of the UN-Afghan Joint Electoral Management Body (JEMB), had announced the start of counting just a day earlier.
"The moment for which the entire Afghan nation and the world community was waiting for has arrived," Wardak said. "Counting of the ballots has started."
The vote count officially began in three of the eight regional counting houses -- in the Kabul, Konduz, and Kandahar provinces. By last night, votes also were being tallied in the northern city of Mazar-e Sharif and the southeastern city of Gardez.
Afghan Transitional Administration Chairman and presidential hopeful Karzai is widely expected to become Afghanistan's first popularly chosen president. But even if Karzai gets the more than 50 percent of the vote needed to win the election in the first round, final official results are not expected until around 30 October.
Reg Austin, the chief technical adviser to the JEMB, said about 95 percent of the ballot boxes have been transported to the regional counting houses so far, from more than 21,000 polling stations across the country.
Officials from the JEMB said they could delay an announcement until 6 November if no candidate wins the first round outright.
That would allow a second-round runoff to take place on the proposed target date of 20 November. Afghanistan's election law requires that no more than two weeks pass between official first-round results and a second-round vote.
Reg Austin, the chief technical adviser to the JEMB, said the vote count is being carefully supervised by international monitors.
"At the tables are Afghan staff who've been trained to carry out this [counting] process. And there are about 1,000 of them around the country," Austin said. "In addition to that, there are international staff who are supervising. That is an important element in this process, since a degree of suspicion exists after the era of conflict that this country has been through."
Austin estimated that about 8 million voters -- or 75 percent to 80 percent of those who registered -- turned out to vote. He said about 95 percent of the ballot boxes have been transported to the regional counting houses so far, from more than 21,000 polling stations across the country.
Austin said seals used to guard against ballot-box tampering broke off of some ballot boxes along the way. But Austin said foul play is not suspected. Rather, he said, the problem appears to be the result of transporting the ballot boxes across difficult terrain in remote regions.
Once a ballot box reaches a regional counting house, Austin said the first step in the process is "reconciliation" of the ballot papers inside.
"Reconciliation is essentially checking to see what is in the ballot boxes and to reconcile what is there in the way of ballot papers that have been used with the ballot papers that have not been used," Austin said. "So it is really a paper trail and an audit -- which is basically to check that what you get in the ballot box, what is returned to you from that station, is essentially what went there [before the vote]."
Once officials confirm that a ballot box has not been stuffed with more votes than the number of ballots sent to a polling station, the next step is to mix all of the votes together from a single province. In this way, militia commanders with links to one particular candidate will not be able to determine if people in one village voted against their candidate.
Austin said the mixing process is an important way to ensure a secret ballot and prevent possible retaliatory attacks against particular villages or districts.
"The mixing process means that the boxes are mixed into a provincewide body of votes," he said. "The votes for any particular village or local region -- the place from whence they come -- will not be able to be identified by anyone. It will be a provincewide vote, and that is all that we will be able to say."
Once the votes have been mixed together, they must be sorted into piles for each of the 16 candidates. The actual vote counting takes place only after the reconciliation, mixing and sorting of ballots has been completed.
The JEMB put the vote count on hold during the past week amid complaints of irregularities by all 15 of Karzai's opponents. An independent panel staffed by three foreign election experts is investigating those allegations.
Austin described several different forms of electoral fraud that he thinks are being investigated by the panel.
"Assuming that [the allegations] are some reflection of what was announced when the 15 candidates made their [original protests], it's probably ballot-box stuffing; polling staff directing people to vote for a particular candidate; ballot papers being either genuine or false, stolen or reproduced -- being distributed and being used to stuff ballot boxes; intimidation; and the possibility of people who were inked ineffectively voting more than once," Austin said.
Afghan election staff were supposed to mark voters' thumbs with indelible ink when they voted. At many polls, however, the ink used was easily wiped off.
Former Education Minister Mohammad Yunos Qanuni and a representative of ethnic Uzbek candidate General Abdul Rashid Dostum met with the three-member panel yesterday.
Qanuni said after those talks that all of Karzai's rivals hope the commission can investigate the alleged wrongdoings in a way that is free from political pressure.
Craig Jenness, a Canadian lawyer on the panel, said the candidates' complaints will be considered carefully.
[For more on the Afghan elections, see RFE/RL and Radio Free Afghanistan's dedicated "Afghanistan Votes 2004-05" webpage.]