Afghanistan: Kabul Blast Toll Rises As Karzai Moves Closer To Election Victory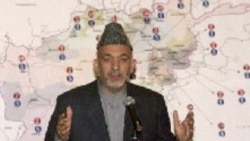 Hamid Karzai has won an unconfirmed victory The death toll from a suicide attack in Kabul yesterday has risen to three, after an Afghan girl and an American woman died of their injuries overnight. The news comes as the Afghan interim leader Hamid Karzai is moving closer to victory in the country's historic presidential election.
24 October 2004 -- Hajji Houmayoon shifts carpets around his shop on Kabul's Chicken Street.
Yesterday, just meters away, a suicide bomber blew himself up in the busy shopping street, killing himself, an Afghan girl, and an American woman.
Splatters of blood are still visible on the shattered windows of the two shops damaged in the blast.
Now shopkeepers like Houmayoon are struggling to go back to their normal routines.
"These attacks are not good especially after we have had a relatively peaceful election. But we can't stop them. They are enemies of our country," Houmayoon said.
"Our business has been completely affected by this attack. Now, no foreigner will dare come here to shop. This will severely affect our livelihood."
Chicken Street is popular with foreigners shopping for carpets, jewelry, and antiques.
Today, most of the shops are open for business, and curious Afghans walk past to survey the damage. But there are no foreigners in sight.
This is a scenario dreaded by struggling Chicken Street shopkeepers like Ahmad Jawed.
"Our business has been completely affected by this attack. Now, no foreigner will dare come here to shop. This will severely affect our livelihood," Jawed said.
The Taliban militia claimed responsibility for the attack, which also wounded three Icelandic troops serving in the NATO-led security force, ISAF.
The attack followed a lull in militant activity over the past couple of months as U.S.-led troops, ISAF, and Afghan forces stepped up security ahead of the 9 October presidential election.
"We should bear in mind the overall security situation which has been stable. This attack will not deter ISAF, in its support for the Afghan National Army and the Afghan National Police, [from] creating a good environment for the Afghan people who have embraced peace after years of violence," said Lieutenant Colonel Patrick Poulain, a spokesman for ISAF.
The attack came as Afghanistan moved closer to a final result in its historic presidential election.
Preliminary results show interim leader Hamid Karzai as the winner, with nearly 55 percent of the vote.
That puts him on course to win outright and avoid a runoff against the second-placed candidate, former Education Minister Mohammad Yunos Qanuni.
But he's not been declared winner yet, and the final votes are still being counted.
Reginald Austin heads technical operations with the Joint Electoral Management Body.
"They should be finished by today and by tomorrow, probably the total boxes would have been finished and reconciled and counted," Austin said.
An expert panel is also still reviewing allegations of electoral fraud leveled by other candidates, and it may take another week for official results to be announced.
(Agencies)