Afghanistan: Media Expand Rapidly But Still Face Intimidation, Violence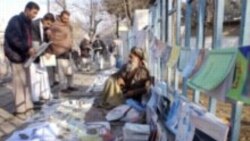 A newspaper vendor in Kabul Since the fall of the Taliban in late 2001, media in Afghanistan have been expanding rapidly. There are now more than 200 publications throughout the country and many private radio and television stations have also been launched. Yet observers say threats and intimidation against journalists are nurturing a culture of self-censorship.
Prague, 6 January 2005 (RFE/RL) -- Under the hard-line Taliban regime there were only a few newspapers in Afghanistan -- and they were controlled by the state. The only radio station -- Radio Shariat -- broadcasted mostly religious programs. Television was banned.
Three years after the Taliban's fall, all that has changed.
More than 250 publications are now registered with the Afghan Ministry of Information and Culture. There are also 42 radio stations and eight private television stations.
Experts applaud these developments, saying a healthy media is essential to Afghanistan's political and economic development.
Because of the high illiteracy rate, radio is the main source of news for most Afghans. In major cities such as Kabul, television is also finding its place in daily lives.
Yet Afghan journalists are still not considered entirely free. They face pressures from conservatives and intimidation and violence from warlords and militias in regions still not under the full control of the central government.
Siamak Herawi is a media specialist in the communications office of Afghan President Hamid Karzai.
"I think the media are free by all means, but sometimes there is self-censorship because of problems that arise from Afghanistan's current conditions. For example, a number of journalists fear that if they tell the truth, they will possibly be threatened. And in most of the regions, the central government doesn't have 100 percent control yet, so journalists fear that local authorities will harass them," Herawi says.
But there are also reports that suggest government pressure on journalists.
In December 2004, Abdul Hamid Mobarez, former deputy minister of information and culture, resigned in protest over what he called the ministry's "censorship of the media." Sayed Makhdum Rahin, newly reappointed minister of information and culture, denies those accusations.
Herawi, formerly editor in chief of the state-run "Anis" daily newspaper, also denies reports of government pressure on the media.
"There is no [state] censorship at all. The critical view you currently see in state media is unprecedented in history. I myself was the chief editor of 'Anis' until four or five months ago. I used to harshly criticize the government but there was no reaction," Herawi says.
Because of the high illiteracy rate, radio is the main source of news for most Afghans. In major cities such as Kabul, television is also finding its place in daily lives.
Still, media workers in Afghanistan face a number of problems -- from a lack of training and equipment to intimidation, threats and harassment.
And many journalists reportedly choose not to cover politics or Islamic issues simply out of fear.
Vincent Brossel covers the region for Reporters Without Borders in Paris:
"The worst enemies remain the conservatives who are either with the government or with the opposition, especially the Taliban. [The enemies are] the religious conservatives who do not tolerate the assertion of pluralistic news and information. So we've had some decisions by the Supreme Court -- which is controlled by conservatives - against cable television and against women who sang on the radio. But there is also pressure from the warlords, from former mujahadeens, drug traffickers; they cannot stand the media criticizing the way they manage the country," Brossel says.
Brossel tells RFE/RL that threats and intimidation are part of the daily work of Afghan journalists -- especially in the provinces.
"In the south of the country, near Khost or Kandahar, in places where the Taliban is active, journalists are caught between two fires -- the fire from the Taliban as it is very difficult to cover the activities of the Taliban in the country. [The journalists] are also facing fire from militias, warlords who are being paid by the government and the Americans to fight the Taliban. So we had many cases of local commanders who were making threats against the journalists with their guns and kalashnikovs," Brossel says.
Yet there are also cases of progress.
Karzai's recently appointed cabinet does not include some influential warlords who were reportedly behind several cases of threats against journalists.
And the media had been under considerable pressure in the northern city of Herat until Karzai sacked its governor, Ismail Khan, a few months ago.
Adela Kabiri, a journalist in Herat, says conditions for journalists in Herat has now improved.
"Until these new developments in the country a few months ago, journalists in Herat were facing problems and had to censor their reports. Otherwise, if they commented on the realities as they are, they would face problems. But now, in my opinion, there are no limitations on journalists," Kabiri says.
Last October, Afghanistan held its first direct presidential elections. Parliamentary elections are scheduled in May. It is still not clear if Afghan journalists and other media workers will be able to freely cover the elections throughout the country.
Brossel of Reporters Without Borders says the future of the media in Afghanistan will depend on several factors.
"I think as long as the international community keeps a careful eye on developments in Afghanistan, it will go in the right direction. What is very positive is that now the media is created, managed and financed by Afghans. And also, disarmament [of militias] should be accelerated and there should be an assertion of the central government's authority all over the country so that the journalists can work freely," Brossel says.
Meanwhile, experts hope the government takes a higher profile in promoting media. The organization Human Rights Watch has urged Karzai to make a public statement in favor of the freedom of the press.