Kyrgyzstan Prepares For Parliamentary Elections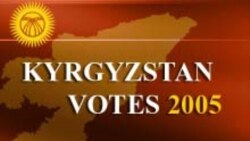 25 February 2005 -- Demonstrations continued today in Kyrgyzstan, where protesters want authorities to reverse decisions that have barred some opposition candidates from running in the 27 February parliamentary elections.
One such rally continued for a fourth day in Bokonbaev, Tong Raion, in northeastern Issyk-Kul Oblast.
Elsewhere, protesters who had been conducting similar demonstrations in the Kochkor Raion of Naryn Oblast dispersed today.
This week has seen large-scale demonstrations in several parts of the country. Protesters blocked major roads, and in one district, protesters occupied an administration building.
Kyrgyzstan's Interior Ministry earlier said that police are stepping up security across the country to prevent any unrest before the 27 February elections.
(RFE/RL's Kyrgyz Service/AP/ITAR-TASS)
For news, background, and analysis on Kyrgyzstan's 27 February parliamentary elections, see RFE/RL's webpage "Kyrgyzstan Votes 2005".