Legal Uncertainty Persists In Kyrgyzstan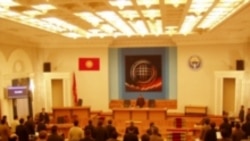 Deputies from the parliament elected on 27 February and 13 March 28 March 2005 (RFE/RL) -- Legal uncertainty persists today in Kyrgyzstan as two parliaments vie for legitimacy.
The old parliament was seated before parliamentary elections earlier this year that triggered mass protests that ousted President Askar Akaev on 24 March.
Deputies to the new parliament were chosen in that disputed election.
The speaker of the lower house of the old parliament said today the chamber was suspending its work but it appeared only a minority of deputies supported the decision.
It was also unclear whether the upper chamber would suspend its work.
Deputies to both the old and the newly elected parliament were meeting today in Bishkek.
The Organization for Security and Cooperation in Europe has offered help to resolve the constitutional and legal problems.
OSCE Secretary-General Jan Kubis met yesterday with acting President Kurmanbek Bakiev in Bishkek.
Akaev has fled the country but has not resigned.
Related:

Photo Gallery: Bishkek, 24 March -- A Day In Pictures

For more background on the crisis in Kyrgyzstan, see RFE/RL's dedicated website Revolution In Kyrgyzstan