Kazakhstan: Opposition Group Reappears Under New Name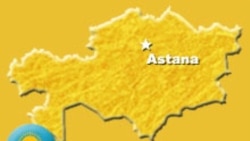 The Kazakh opposition party Ak Zhol, or Bright Path, split earlier this year, divided over policy ahead of the presidential elections in 2006. Now, a splinter faction has returned to the political scene -- calling itself Naghyz Ak Zhol, or the True Bright Path. But how different is it from its predecessors?
Prague, 21 April 2005 (RFE/RL) -- Ak Zhol's former co-chairmen returned to Kazakhstan politics yesterday.
Bulat Abilov, Oraz Zhondosov, and Altynbek Sarsenbayev told journalists in Almaty they had created a new party -- Naghyz Ak Zhol.
Sarsenbayev said they have kept the name of the new party close to its origins partly for publicity reasons.
"The reason is, since the situation developed within this party, we have held many gatherings. At those gatherings, in every corner of our republic, we were called 'Naghyz Ak Zholdyqtar.' (the People on the True Bright Path). That is why we decided not to change either the party's name or the party's views, but simply add the word 'Naghyz,' proposed by the people for our name," Sarsenbayev said.
It is unclear how many Ak Zhol members have switched loyalties to Naghyz Ak Zhol. And Sarsenbayev, when asked, found it difficult to describe how the new party will differ from its predecessor.
Ak Zhol for several years was one of the leading opposition parties in Kazakhstan. Its moderate leadership, composed of former government officials and leading businessmen, represented a broad range of interests. It was the only opposition party to win a seat in last year's parliamentary elections.
But by February 2005, it was clear the party was splitting. A fourth Ak Zhol co-head, Alikhan Baimenov, called a special congress to pass a no-confidence measure against his fellow chairmen.
Baimenov said at that time that it was a difficult decision." He said, "A decision was made at the plenum. It was difficult for me as a person, as a citizen and as a politician. But as the Kazakh saying goes, 'He who hides an illness will die from it.'"
Baimenov technically holds Ak Zhol's legislative seat. But, protesting what many considered an unfair parliamentary vote, he announced he would not sit in parliament, and the seat remains empty.
Kazakhstan's Justice Ministry this month registered the changes in party leadership. That effectively left Baimenov as the chairman of Ak Zhol.
But Zhondosov criticized that decision yesterday, saying the authorities legitimized a decision that was made at an "illegitimate" congress.
Sarsenbayev indicated that the core of Ak Zhol's platform would remain the same in Naghyz Ak Zhol.
"Since this will be a new party, changes are inevitable. But the program prepared by the Ak Zhol party, the platform outlined by the Ak Zhol party on the eve of the elections [last summer], the values the Ak Zhol party offered to the people, to the nation, will be the basis for our new party, [Naghyz Ak Zhol]," Sarsenbayev said.
It is unclear how many Ak Zhol members have switched loyalties to Naghyz Ak Zhol. And Sarsenbayev, when asked, found it difficult to describe how the new party will differ from its predecessor.
"The difference [from the old Ak Zhol party] will become clear through our further activities. To outline, set down and propagate the program, and to implement that program, are two different things. We shall be Naghyz Ak Zhol, implementing its program into real life," said Sarsenbayev.
Baimenov said he was surprised by the formation of Naghyz Ak Zhol, and said he had hoped that Abilov and Zhondosov would return to the original Ak Zhol once what he called "temporary passions" subsided.
"Politics is not chewing gum; a copy is not the original. I am confident that [Naghyz Ak Zhol's] current actions are not about creating a new party but about hurting the existing party -- destroying it, through cheating the population," Baimenov said.
Azat Peruashev, the head of the pro-presidential Civic Party, said the creation of the new party would prove counterproductive.
"They are trying to use the same name with some additions. That will cause tensions with the officially recognized Ak Zhol and I think it will lead to negative results," Peruashev said.
Naghyz Ak Zhol says one of its goals is to prepare for presidential elections next year. The first step toward that goal is registering the party -- a procedure that is far more complicated than it once was. New registration regulations were a cause of frequent complaints from opposition parties ahead of last year's parliamentary ballot.