Afghanistan: Authorities On Alert After Days Of Violent Protests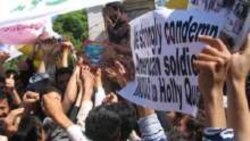 Protesters this week in Jalalabad Police and army forces in Afghanistan are on a state of alert after three days of violent anti-American protests that shook several provinces of the country. At least 10 people have died so far in the protests, which were triggered by a U.S. magazine report that said U.S. interrogators at Guantanamo Bay, Cuba, had desecrated the Koran.
Prague, 14 May 2005 (RFE/RL) -- The situation is tense in Afghanistan a day after at least four people were killed in violent anti-U.S. demonstrations across the country.
Afghan Interior Ministry spokesman Lutfollah Mashal told RFE/RL he knew of just one, peaceful, demonstration in the southern province of Zabul today. But he said additional troops have been sent to several cities across the country to prevent violence.
"Police forces, army, and other security organs of Afghanistan are in a state of alert and additional forces have been sent to provinces and cities where large demonstrations might take place. Additional forces have been sent to Baghlan, Herat, Mazar-e Sharif, Kandahar, Ghazni, Jalalabad, and Laghman," Mashal said.
At least 10 people have been killed and many injured in the violence of the last three days.
The protests were triggered by a "Newsweek" magazine report from 9 May that U.S. interrogators at Guantanamo Bay placed Korans on toilets to put pressure on terror suspects, and in one case flushed a Koran down the toilet.
The latest violence yesterday hit several towns and cities. They included Ghazni, where armed demonstrators tried to attack the governor's house, and Badakhshan, where the offices of several international relief organizations were looted and set on fire. In Gardez also, the offices of aid organizations were attacked.
Afghan authorities say antigovernment groups, enemies of peace and stability in the country, and outsiders are instigating the violence.
Most prayer leaders condemned the alleged desecration of the Koran, but called on people to refrain from violence. Islamic cleric Sibghatullah Mujaddedi told worshippers in Kabul's main mosque yesterday that the violence was against Islam.
And in Kabul yesterday, Haji Mohammad Mohaghegh, the leader of the Party of Islamic Unity of Afghan people, condemned the violence, but said that U.S. troops are causing tension in the country. "They pave the way, [by making] senseless arrests, senseless bombings, death of women, death of men, disrespect, dishonor, all the things that bring people to the point of explosion, this incident also happens and you see it comes out of every corner," he said.
Kabul newspapers have also condemned violent actions in their editorials today, while stating that peaceful demonstrations are the right of the people.
The "Arman-e Melli" daily writes that any disrespect to the Koran will cause angry reactions. However, the daily condemns violent actions such as setting fire to buildings and causing damage to public properties.
"Outlook," an English-language newspaper, writes that the United States should apologize about the alleged desecration and immediately arrest and punish those who are responsible.
The United States has appealed for calm and said it is investigating the allegations. White House spokesman Scott McClellan said yesterday that his country understands and shares the concern of Muslims.
"Disrespect for the Holy Koran is something that the United States will never tolerate," he said. "Now, in terms of the allegation that was made, that's something we take very seriously too and the Department of Defense is looking into it."
Yesterday, demonstrators took to the streets in other Muslim countries, with protests against the alleged desecration in Pakistan, Indonesia, and in the Palestinian territories.
(RFE/RL's Afghan Service contributed to this report)
See also:

What Is Fueling The Anti-U.S. Demonstrations?

Top U.S. General Says No Evidence Yet Found That Koran Was Defiled