Uzbekistan: EU, Uzbek Relations Heading For Showdown Over Andijon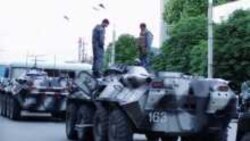 Events in Andijon have strained President Karimov's relations with the EU EU officials said today that Uzbekistan has refused to grant an entry visa for a human rights representative of High Representative for Common Foreign and Security Policy Javier Solana -- and has so far ignored a letter of protest sent subsequently by Solana. Solana's representative was to have traveled to Andijon, where hundreds of demonstrators are believed to have been shot by government troops in mid-May in what the global watchdog Human Rights Watch calls a "massacre" in a new report issued today. The letter sent by Solana -- seen by RFE/RL -- suggests strongly that Uzbekistan is throwing into doubt its Partnership and Cooperation Agreement, which serves as the basis for bilateral relations.
Brussels, 7 June 2005 (RFE/RL) -- Although EU officials still balk at threatening sanctions against Uzbekistan, the course of events in the past few weeks suggests that tough EU action will be inevitable sooner rather than later.
One senior EU official -- who asked not to be named -- said Uzbekistan had on 3 June denied an entry visa to Javier Solana's personal human rights representative, Michael Matthiessen. Mathiessen intended to visit Andijon and to try to persuade the country's president, Islam Karimov, to allow for an independent international inquiry into last month's events.
EU foreign ministers formally asked for such an inquiry in a declaration adopted shortly after the events in Andijon of 13 May.
In response to the rejection of the visa application, Solana wrote to Karimov on 3 June, saying he "regrets" the refusal.
Speaking to reporters in Brussels today, Solana said Karimov has yet to respond.
EU foreign ministers formally asked for such an inquiry in a declaration adopted shortly after the events in Andijon of 13 May.
"I have sent a letter," Solana said. "Up to now, he has not replied. We have somebody ready to go there. He [was] at the embassy, asking for a visa -- Mr. Matthiessen, my personal representative for human rights -- and I hope he will be able to go."
Solana's letter says the EU "believes that it should be possible at all times that diplomatic envoys are received...to conduct dialogue." It goes on to note that being open to such contacts is the "very foundation of our Partnership and Cooperation Agreement."
The anonymous EU official quoted above said the Uzbek side has presented no formal reason for the refusal to admit Mathiessen into the country. A statement by the Uzbek Foreign Ministry merely said the country saw no need "at this point" to discuss any of the issues raised by the EU foreign ministers in their declaration.
The official refused to speculate on whether the EU will now be forced to consider sanctions -- such as a visa ban -- against Karimov's administration. The official said that while the EU response has yet to be elaborated, member states have reacted with "great disappointment," adding that Karimov is "encircling" himself.
Member state ambassadors are discussing the issue today in Brussels, and the matter is likely to come up at a 13 June meeting of EU foreign ministers in Luxembourg. It may also feature on the agenda of the EU summit on 16-17 June.