U.S., Afghan Troops Kill Scores Of Taliban Fighters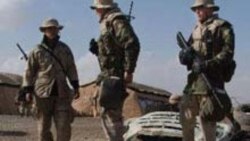 U.S. soldiers in Afghanistan (file photo) 22 June 2005 -- U.S. military and Afghan authorities say that their troops backed by warplanes have killed at least 60 Taliban guerrillas in southwestern Afghanistan in some of the bloodiest fighting in months.
They say that six members of the Afghan security forces and five U.S. soldiers also died in the battles.
The combined military said also that Afghan troops arrested 30 Taliban fighters.
They said today that the clashes are part of a search and attack operation, code named "Catania," to destroy guerrilla sanctuaries.
Battle continues in Mian Nishin, a district capital 400 kilometers southwest of Kabul, that was overrun by guerrillas last week and retaken by government forces yesterday. Afghan General Salim Khan said that the Taliban fighters killed today were from the group that was dislodged from Mian Nishin.
(Reuters)
See also:

Surge In Violence Raises Concerns Ahead Of Afghan Elections

More news and analysis on Afghanistan