Governor Says U.S. Warplanes Killed 17 Afghan Villagers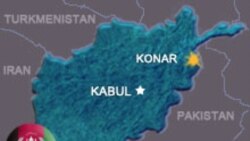 4 July 2005 (RFE/RL) -- The governor of Afghanistan's Kunar Province says U.S. warplanes killed 17 civilians -- including women and children -- in a recent attack aimed at a suspected Taliban compound.
Kunar Governor Asadullah Wafa says the bombing occurred on 1 July in the village of Chichal, in the mountainous eastern part of the country.
Wafa's 4 July statement today as U.S. forces are continuing a search for members of a small U.S. special-forces team that went missing last week in Kunar Province. On 3 July, U.S. military officials said they had found alive one member of the team.
The U.S. military has declined to release details about the number of missing soldiers or their mission.
A U.S. helicopter sent to help the team was shot down in the area on 28 June, killing all 16 U.S. soldiers on board.
(Reuters/AFP)
See also:
Is Helicopter Downing A Sign Of New Insurgent Tactics, Weapons?