Taliban Said Sheltering Escaped Al-Qaeda Suspects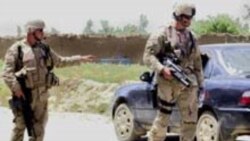 U.S. soldiers searching for the escapees on 12 July 14 July 2005 (RFE/RL) -- Taliban insurgents are claiming to have found and given shelter to four suspected Arab Al-Qaeda militants who escaped this week from a U.S. detention center in Afghanistan.
The claim was made today by Taliban spokesman Abdul Latif Hakimi, but could not be independently verified.
The U.S. military said earlier it is carrying on an "aggressive" hunt for the four men, who escaped a heavily guarded detention center at Bagram Air Field north of Kabul on 11 July.
The U.S. military had no comment on an earlier Taliban claim that it had made contact with the escapees.
(Reuters)
See also:

Manhunt Continues For Four Suspected Al-Qaeda Fighters