Kyrgyz Constitutional Court Rules Elections Valid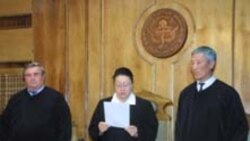 Constitutional Court Chairwoman Cholpon Bayekova makes the announcement 16 July 2005 (RFE/RL) -- Kyrgyzstan's Constitutional Court has declared the 10 July presidential election valid, RFE/RL's Kyrgyz Service reported.
Today's move clears the way for Kurmanbek Bakiev to be inaugurated as president next month.
The court found there were no serious violations and that generally voting was free and fair.
Bakiyev won the election, taking nearly 90 percent of votes cast.
(RFE/AKIpress)
For RFE/RL's full coverage of Kyrgyzstan's presidential election, see "Kyrgyzstan Votes 2005"