EU Official Asks Kyrgyzstan Not To Extradite Uzbeks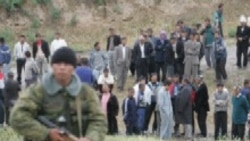 The fate of 15 refugees remains unclear 3 August 2005 -- EU foreign and security policy chief Javier Solana has written to Kyrgyz President-elect Kurmanbek Bakiev expressing his "strong concern" for the fate of 15 Uzbek refugees still being detained in Kyrgyzstan.
In the letter, released by his office in Brussels today, Solana said Kyrgyzstan must honor its international obligations, in particular those stemming from the UN Convention on Refugees.
The UN refugee agency, UNHCR yesterday called on Kyrgyzstan not to hand the 15 Uzbeks remaining in its custody over to the Uzbek authorities, saying deportation would violate international accords.
Uzbekistan accuses some of the refugees of terrorism and membership of banned Islamist groups, Kyrgyzstan has so far indicated it will extradite them.
In his letter, Solana also thanks the Kyrgyz president for having allowed the UNHCR
to airlift 439 Uzbek refugees to Romania
earlier this week.
See also:

Kazakhstan Becomes New Destination For Uzbek Asylum Seekers"