Bakiev: Kyrgyz Foreign Policy To Be Independent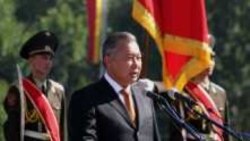 President Bakiev at his inauguration today Bishkek, 14 August 2005 (RFE/RL) -- New Kyrgyz President Kurmanbek Bakiev pledged in his inauguration speech today that the country will pursue an independent foreign policy.
He said Kyrgyzstan will not become a place "for the fulfillment of someone else's geopolitical interests." Without naming any nation, he said Kyrgyzstan respects the interests of other nations, but the interests of the Kyrgyz people and state, and the freedom and independence of Kyrgyzstan, are paramount.
Kyrgyzstan hosts both U.S. and Russian military bases on its soil. For the United States, the base there has become more important after neighboring Uzbekistan recently demanded the withdrawal of U.S. troops from its territory.
Bakiev took the oath of office in a ceremony on the capital's central square. Some 5,000 dignitaries attended including officials from the U.S., the European Union, the United Nations, and Russia.
(RFE/RL's Kyrgyz Service, AP)
For the latest news on events in Kyrgyzstan and in the other Central Asian republics, see Central Asia in Focus