Russia: Supreme Court Overturns Ban On Radical Party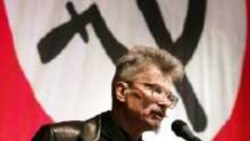 Eduard Limonov speaking at an NBP congress in November 2004 Russia's Supreme Court has lifted a ban imposed by a lower court on the National Bolshevik Party (NBP). The radical youth movement, whose provocative antigovernment protests have long riled the Kremlin, had been outlawed in June for violating registration procedures. The party's controversial leader, Eduard Limonov, hailed the decision, saying it gave him new hope for the future of Russia. Is the decision a sign of better times to come for the country's many radical groups?
Moscow, 17 August 2005 (RFE/RL) -- Eduard Limonov, the ultranationalist writer at the helm of the National Bolshevik Party (NBP), did not conceal his elation yesterday (16 August) after the Supreme Court overturned a ban on his movement.
Speaking to RFE/RL's Russian Service, he hailed the judges' decision as fair and impartial.
"I think the Supreme Court has shown honesty, dignity, and impartiality in carrying out its direct responsibilities," Limonov said. "It has confirmed our right to exist -- the right of a dissident political organization to exist. These [Supreme Court judges] are dignified, elderly, intelligent people and they did not want to stain their names with an unlawful decision."
A Moscow court had banned the NBP in June, ruling it had no right to call itself a party since it was not registered. Prosecutors had also accused the group of being involved in extremist activities.
A spokeswoman for the Russian Prosecutor-General's Office, Natalya Vishnyakova, said it would appeal yesterday's decision in the Supreme Court's presidium.
"The Prosecutor-General's Office respects court decisions, but we disagree with today's ruling by the Supreme Court and will appeal it," she said. "The Moscow regional prosecutor's office uncovered specific violations of federal legislation by the National Bolshevik Party public organization, and it was because of those violations that this public organization was disbanded."
National Bolsheviks have largely gained fame by staging provocative protests. They are notorious, for instance, for peacefully seizing government offices and throwing eggs, tomatoes, mayonnaise, and juice at some of their foes.
"But dozens of very similar attacks have occurred according to exactly the same scenario: some well-organized and physically trained young men attacked NBP activists and beat them up. No Supreme Court decision can stop this kind of pressure." - analyst
This radical youth movement started as a neo-fascist organization. Today, however, National Bolsheviks prefer describing themselves as an opposition group that supports democracy. The movement, whose emblem combines the Nazis' red-and-white flag with the Soviet hammer and sickle, also regularly denounces the Kremlin's policy in Chechnya.
As recently as yesterday, NBP activists distributed leaflets calling Russian President Vladimir Putin the "butcher of Beslan" to denounce what they perceive as the government's botched handling of the Beslan hostage taking by armed militants in September 2004.
Such protests have, of course, riled the Kremlin. And in what many see as a Kremlin-led political crackdown, law-enforcement agencies have targeted the NBP on several occasions, arresting activists and closing down their office.
Thirty-nine NBP activists are currently facing trial. Limonov himself has served time in prison for illegally possessing firearms, a charge he denies.
For Limonov, the lifting of the ban on his party is therefore a major victory. He said the decision gives him "great hopes" for Russia's future. He hopes the decision will persuade courts to adopt a milder stance toward the NBP, and other political movements as well.
"I think all future court rulings on our cases will be subconsciously influenced by [yesterday's] Supreme Court decision during all future trials linked to our activities. This is why I see this decision as crucial not only for the fate of our political party, but also for the fate of all political organizations in Russia," Limonov told RFE/RL's Russian Service.
But Limonov said the ruling is unlikely to put an end to what he branded the "repression" of his movement.
Center for Strategic Studies Director Andrei Piontkovskii agrees. NBP activists claim to be frequently beaten up, and Piontkovsi said the lifting of the ban is unlikely to put an end to the reported attacks. "There was much talk about the beating of two [Polish] diplomats and one journalist," he said. "But dozens of very similar attacks have occurred according to exactly the same scenario: some well-organized and physically trained young men attacked NBP activists and beat them up. No Supreme Court decision can stop this kind of pressure."
On the contrary, Piontkovskii predicts the decision will only fan the anger of NBP foes and provoke further beatings.
Sergei Markov, a political analyst close to the Kremlin who heads the Institute for Political Studies in Moscow, told RFE/RL that the Supreme Court's decision was not influenced by the Kremlin and does not indicate a softening of its stance towards radical opposition groups.
The government, Markov said, is still intent on disbanding Russia's mushrooming radical opposition groups. "I think the authorities will not leave it at that decision. It will continue to try to outlaw the National Bolshevik Party, and will eventually succeed in doing so," he said. "This is due to the fact that the NBP is seen as a serious danger, the germ of a future fascist party."
The NBP is registered not as a party but as a regional organization, meaning it cannot present candidates for parliamentary elections. It counts some 17,000 members.