Pope Urges Interfaith Battle Against Terrorism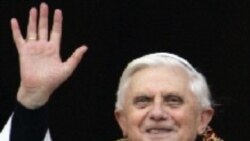 Pope Benedict XVI (file photo) 20 August 2005 -- Pope Benedict XVI today urged Muslims to join forces with Christians in trying to combat the spread of terrorism.
Addressing a gathering of Germany's Muslim leaders in the German city of Cologne, the pontiff urged them to fight the rancor and intolerance that he said are at the roots of terrorist violence.
Benedict said terrorists are seeking to poison relations between Christians and Muslims and said that dialogue between different faiths was a "vital necessity."
Yesterday, the pope visited Cologne's synagogue, where he urged improved Jewish-Christian relations and warned of rising anti-Semitism.
The German-born Benedict is in Germany for the World Youth Day festival. It is his first visit abroad since he was elected as pope in April.
(AFP/AP)
[For more on religious and interfaith issues, see RFE/RL's dedicated Religion and Tolerance website.]