Karzai Defends Taliban Participation In Election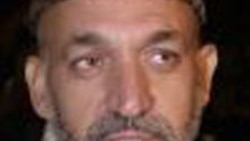 President Hamid Karzai (file photo) 13 September 2005 (RFE/RL) -- Afghan President Hamid Karzai says allowing candidates accused of human rights abuses to run in his country's upcoming election is in the interests of national reconciliation.
Karzai made the comments in an interview with the BBC aired today.
He said Afghans could choose whom they wanted to vote for in
the 18 September elections
for a National Assembly and provincial councils.
He said allowing some Taliban defectors and warlords accused of serious human rights abuses to run "is not a compromise" but "healing a wound."
Karzai also called on the international community to reconsider the strategy of fighting terrorism in Afghanistan, saying they should "stop it where it arises". Asked whether he meant neighbouring Pakistan, he said he was not suggesting any country.
Four prominent former Taliban members are running in the elections, including former Foreign Minister Wakil Ahmad Muttawakil.
The UN-backed Electoral Complaints Commission has disqualified 45 candidates, most for links to armed groups, but none have been high-profile figures accused of major abuses.
(BBC/Reuters)
See also:

"HRW Representative Cites Fear Of Warlords, Other Election Concerns"