Chechen Forces Say They Killed Aide To Rebel Leader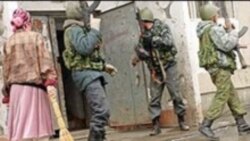 Chechen security forces (file photo) 14 September 2005 -- Chechnya's Interior Ministry say that pro-Moscow Chechen forces today killed an aide to new Chechen rebel leader Abdul-Khalim Sadulaev.
Interior Ministry spokesman Ruslan Atsaev said the aide, identified as Shamil Muskiyev and described as being in charge of religious affairs, died in an operation in the town of Argun -- east of the capital Grozny -- in which four other suspected militants died.
Atsaev said the shootout also killed two Chechen policemen. In the southeastern Shali District, Chechen security officers killed a suspected rebel in a shootout, the regional Interior Ministry said.
Meanwhile, an official from the Moscow-backed Chechen government said today that seven Russian soldiers were killed in Chechnya in separate incidents over the past 24 hours.
(AP/AFP)
For all the news on Chechnya, see Crisis In Chechnya