Khodorkovskii Appeal Hearing Under Way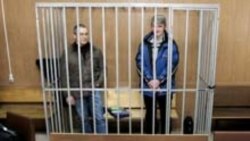 Mikhail Khodorkovskii (L) and Platon Lebed (file photo) 19 September 2005 (RFE/RL) -- A Moscow city court today resumed hearing the appeal of Mikhail Khodorkovskii against a nine-year prison sentence for tax evasion and fraud.
The proceedings were adjourned until tomorrow as the court tried to establish who would represent the former head of the Yukos oil company after his main attorney fell ill last week. Khodorkovskii has refused to name replacements for lawyer Genrich Padva, who is expected to be hospitalized for several weeks.
Khodorkovskii and his business partner Platon Lebedev were both sentenced in May to nine years in prison on similar charges. Both men deny any wrongdoing and supporters say the trial was a Kremlin-inspired retribution for Khodorkovskii's political ambitions.
In what is seen as a further challenge to the Kremlin, Khodorkovskii says he wants to stand in
a parliamentary by-election
in December. If the court confirms his sentence, he would be excluded from running.
(dpa/Interfax)
Related Stories:

"Will Khodorkovskii Verdict Undermine Support For Opposition Parties?"

"After Khodorkovskii, What Next For Oligarchs?"