Three Indicted For Attempted Assassination Of Chubais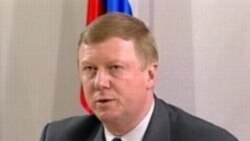 Anatolii Chubais on 18 March after the attack 26 September 2005 -- Three former Russian servicemen have been indicted in Moscow in connection with the attempted assassination of Russia's former privatization chief, Anatolii Chubais.
The Prosecutor-General's Office says it has filed formal charges against Vladimir Kvachkov, a retired military intelligence colonel, and former paratroopers Robert Yashin and Aleksandr Naidyonov.
The three were charged with attempted murder and illegal possession and production of weapons. A statement says they will remain in custody pending trial.
The Prosecutor-General's Office did not comment on the suspects' motives. All three say they are innocent. Chubais was ambushed on his way to work outside Moscow on 17 March. No one was hurt.
(AP)
See also: "Analysis: Chubais Under Fire"