Beslan Witness: Russian Forces Fired At School First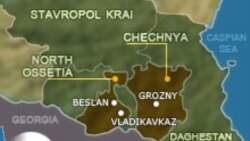 28 September 2005 -- A witness in the trial over the Beslan school siege in North Ossetia said a Russian armored vehicle was the first to open fire in a battle that claimed the lives of many hostages.
Sixty-four-year-old Kuzbek Turbinov was testifying in the trial of the man alleged to be the sole remaining hostage-taker
in the September 2004 siege.
Turbinov told the court he saw the Russian vehicle fire at the school before a massive explosion occurred that
Russian authorities say was set off by the hostage-takers.
Moscow says that explosion forced Russian security forces to storm the building, spurring a chaotic string of events that
ended with some 318 hostages killed, including 186 children.
Survivors of the massacre and victims' relatives blame Russia for using force against the hostage takers while hundreds of hostages remained in the building.
(AFP)
For complete coverage of the Beslan tragedy, see RFE/RL's special webpage "Remembering Beslan"