Afghan President Thanks Pakistan For Election Help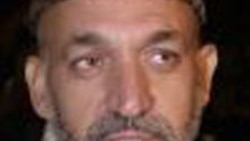 President Karzai (file photo) 30 September 2005 -- A Pakistani army spokesman said today that Afghan President Hamid Karzai has praised Pakistan's leader for helping Afghanistan hold peaceful legislative elections and accepted an invitation to visit Pakistan.
Army spokesman General Shaukat Sultan said Karzai made his remarks yesterday in a telephone call to President General Pervez Musharraf, who called him "to discuss issues of mutual interests and further enhancing cooperation and coordination in war on terror."
Pakistan deployed additional troops to prevent Taliban and Al-Qaeda fighters from crossing the border into Afghanistan and disrupting the 18 September election.
Sultan said Musharraf accepted an invitation by Karzai to visit Pakistan at a date to be decided by the countries' foreign ministers within a month.
(AP)
For RFE/RL's full coverage of the legislative elections in Afghanistan, see "Afghanistan Votes"