Afghan Protests Spread To Kabul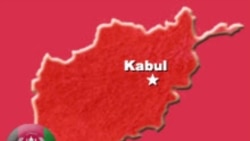 3 October 2005 -- Protests against the killing of Mohammad Ashraf Ramazan -- one of northern Afghanistan's key ethnic Hazara parliamentary candidates -- spread to the capital Kabul today.
Reports from Kabul say up to 4,000 people marched in Kabul today -- most of them ethnic Hazaras.
At least 1,000 others demonstrated for a second day today in Mazar-e Sharif,
blocking a highway
through the northern city. Ramazan was killed in a drive-by shooting on 27 September in Mazar-e Sharif -- capital of Balkh Province.
Protesters in both cities are demanding the resignation of Balkh's Governor Atta Mohammad. They accuse the governor of plotting the attack against Ramazan, who belonged to a minority Shi'a Muslim faction called Wahdat.
(RFE/RL's Afghan Service; AP/AFP)
For RFE/RL's full coverage of the legislative elections in Afghanistan, see "Afghanistan Votes"