Pakistan Says No Decision On Handover Of Taliban Spokesman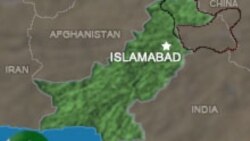 5 October 2005 (RFE/RL) -- Pakistan says it has not yet made a decision on whether it will hand over to Afghan authorities a prominent spokesman for the Taliban who has been arrested in Pakistan.
Information Minister Sheikh Rashid Ahmed said Pakistani security agencies first plan to question Abdul Latifi Hakimi, who was reported captured on 4 October in Pakistan's southwestern Baluchistan Province.
The Pakistani information minister called the arrest of the Taliban figure a "big success."
"We believe that his arrest will give certain important information because he was dealing with the media and he was their spokesman and he has close links with the Taliban leaders," Ahmed said. "It's a big success of our security agencies and the armed forces."
Afghan authorities have welcomed Hakimi's arrest and extended gratitude to Pakistan.
Hakimi has often spoken for the Taliban, mostly claiming responsibility on behalf of the militia for attacks against U.S.-led coalition forces.
(AP/Reuters)
See also:

Afghanistan: Neo-Taliban Free To Communicate With Media