U.S., Kyrgyzstan Discuss Arms Control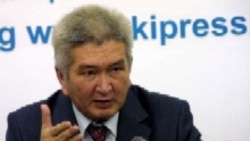 Prime Minister Feliks Kulov (file photo) 7 October 2005 -- A senior U.S. diplomat has held talks in Bishkek with Kyrgyz Prime Minister Felix Kulov.
Robert Joseph, U.S. undersecretary of state for arms control and international security, is touring Central Asia to discuss arms control and nonproliferation issues with Central Asian government officials.
Joseph said today they discussed expanding U.S.-Kyrgyz relations in terms of weapons-export controls, as well as security forces to protect Kyrgyzstan's border.
Earlier this week, Joseph was in Turkmenistan and Tajikistan, where he discussed nonproliferation issues with the leaders of those countries.
(AP)
For RFE/RL's full coverage of developments in Central Asia, see Central Asia In Focus