Second Suicide Bombing Targets Southern Afghan City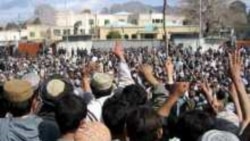 Kandahar is a former Taliban stronghold (file photo) 10 October 2005 -- A second suicide bomb attack of the day has rattled Afghanistan's southern city of Kandahar, although the attacker was the only casualty after timely intervention by police.
A prominent former militia commander, Shah Agha, was among three killed in
the first attack
earlier today. He was known to be loyal to the government of President Hamid Karzai.
Kandahar Governor Assadullah Khaled said the remains of a suicide bomber, who he said appeared to have been a non-Afghan, were found at the scene.
The second suicide bomber detonated an explosive device later when police ordered him to stop. Only the bomber was killed in that attack.
Meanwhile, the U.S. military said that one U.S. soldier was killed and another wounded in fighting with militants in the southern Zabul Province yesterday.
(Reuters/AP/AFP/dpa)
Also on Afghanistan:

Afghan Commission Still Poring Over Vote Complaints