Kyrgyz President Seeks To Abolish Death Penalty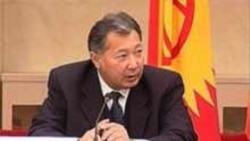 President Bakiev (file photo) 13 October 2005 -- Kyrgyz President Kurmanbek Bakiev today called for constitutional amendments that would ban the death penalty.
Bakiev made his remarks while speaking to members of the Constitutional Council in Bishkek. Kyrgyzstan has been planning to ban executions, and has already placed a moratorium on the practice.
Kyrgyzstan's Constitutional Council is supposed to have finished draft amendments to the constitution by the end of this year.
(BBC Monitoring/AP)
For more news about events in Kyrgyzstan, see RFE/RL's webpage News and Features on Kyrgyzstan