Prague, 25 October 2005 (RFE/RL) -- On 14 May, death came to the streets of the Uzbek city of Andijon. Government troops opened fire -- on innocent civilians, say eyewitnesses, on armed bands of Islamic extremists, says the state.
The violence in Andijon has had profound consequences, not just for Uzbek domestic and foreign policy but for the competition between the great powers for influence in Central Asia as a whole. (Timeline Of Andijon Events)
When Washington joined calls for an international investigation into the Andijon killings, Uzbek President Islam Karimov looked for and found support from more traditional allies -- Russia and China. There would be no independent investigation.
Karimov's confidence was bolstered at a summit of the Shanghai Cooperation Organization (SCO) in the Kazakh capital, Astana, in July. A joint statement issued by the summit urged the United States to set a deadline for ending its military presence in Central Asia. Shortly afterward, Karimov gave Washington six months to get its military forces out of Uzbekistan.
"China and Russia backed the Uzbek initiative, China for the clear strategic reason that it doesn't want U.S. strategic forces in what it regards as its backyard," Dmitrii Trenin, a specialist on the region at the Carnegie Endowment in Moscow, told RFE/RL. "And Russia has always felt slighted by the U.S. military presence in the territory of the former Soviet Union. U.S. aircraft sitting on the tarmac of Soviet-built airfields is a psychological offense."
Not In Our Backyard
The initiative had come from Uzbekistan but the enthusiasm of the Chinese and Russian response was in no doubt. Americans in Central Asia make them nervous. Dr. Lai Hongyi, a graduate of Beijing University who now works as a research fellow at the East Asian Institute in Singapore, told RFE/RL that Beijing feared that Washington was set on triggering regime change across the region.
"Russia and China feel that the U.S. has been too aggressive in Central Asia," Lai said. "The U.S. is threatening their national security. The first thing is the U.S. is trying to put [forward] the democratic movements, some kind of people's movements, and propel them into power and then, hopefully, these new governments would be pro-U.S."
China, in particular, was nervous that the people's revolution in Kyrgyzstan in March might prove infectious -- not just in former Soviet Central Asia but also in its own province of Xinjiang, where there is a strong movement for independence among ethnic Uyghurs.
"Any country in the world will be sensitive to political developments in its neighbors and Central Asia is next to China's Xinjiang Province, one of the two provinces in which the largest minorities are ethnic populations," Lai said. "China will feel that if Central Asia is governed by the pro-U.S. regime or government, it will destabilize China's Xinjiang region and will give Beijing a lot of trouble."
The Astana SCO summit marked a sea-change in Central Asia and provided clear evidence of Russia and China's determination to defend a sphere of interest. Russia, in particular, has watched the United States encroach on its backyard with growing alarm. There is talk of the U.S. military moving troops into the southern Caucasus countries of Azerbaijan and Georgia to protect the Baku-Tbilisi-Ceyhan oil pipeline and even whispers of a new air base in Turkmenistan, but Russia and China have drawn a line in the desert sand of Central Asia.
Not Taking Sides
But is it that simple? Dmitrii Trenin thinks not. Look at Kyrgystan, he said, where the new government sees U.S. support as an essential counterweight to its powerful Chinese neighbour, and from where U.S. military aircraft still take off to patrol the skies over Afghanistan.
"I would say the situation in Central Asia is more nuanced than it is sometimes believed to be," he told RFE/RL. "What we are seeing now is the continuing and possibly even expanded U.S. military presence in Kyrgyzstan -- some sort of rebalancing -- most clearly in Uzbekistan, far less clearly in Kyryzstan and Tajikistan. I would say that for most Central Asian states, the relationship with the United States continues to be an important relationship."
And how solid is the Sino-Russian alliance? Relations between Moscow and Beijing have rarely been anything other than brittle. For the moment, a confluence of interests binds them and most of the Central Asian elites in an alliance of convenience. But China's power is growing and the Central Asian states have their own interests to pursue. For the time being, China seems prepared to accept the priority of Russian interests in the region. But for how long now that its economic and military power is growing so fast?
Read the other parts in the "Battle For Central Asia" series:
Oil, Diplomacy, And Military Might
China Brings Electronics, Not Democracy
Russia And U.S. Often At Odds In Region
Iran, Turkey Struggle To Influence Region
Background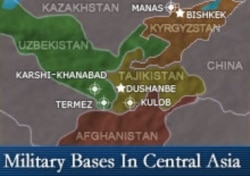 Click on the map for an enlarged image.