Twenty Reported Dead At Kyrgyz Prison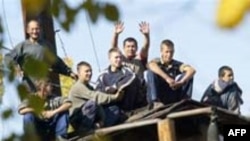 Prisoners protesting at a prison near Bishkek last month (AFP) Bishkek, 1 November 2005 (RFE/RL) -- At least 20 inmates are reported to have been killed today in renewed unrest at a prison camp in Kyrgyzstan, RFE/RL's Kyrgyz Service reported.
Shots were heard at Prison No. 31 outside Bishkek as guards and special forces apparently opened fire to suppress a prisoner revolt.
A Kyrgyz lawmaker -- Tynychbek Akmatbaev -- was killed there in a hostage crisis on 20 October that sparked days of protests in Bishkek and other Kyrgyz cities.
RFE/RL's Kyrgyz Service quotes officials as saying violence and hunger strikes also took place in six other prisons across the country.
Kyrgyzstan's Justice Minister Marat Kaiypov tells RFE/RL that the situation has calmed down in all of the affected prisons.
(with agency reports)