Ukrainian President Nominates New Prosecutor-General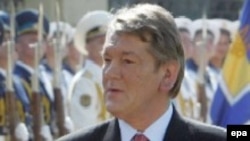 President Viktor Yushchenko (file photo) (epa) 1 November 2005 -- Ukrainian President Viktor Yushchenko plans to nominate Oleksandr Medvedko as the country's new prosecutor-general.
Presidential spokeswoman Irina Gerashchenko says Yushchenko has asked lawmakers to support his candidate. Medvedko currently is deputy prosecutor-general.
Yushchenko had previously nominated Vasyl Prysyazhnyuk, another deputy prosecutor-general, to the post, but he withdrew the nomination yesterday.
No reason was given.
Yushchenko sacked the previous prosecutor-general, Svyatoslav Piskun, earlier this month. Piskun has appealed his dismissal.
A Kyiv district court considering Piskun's appeal will hold its next hearing on 8 November.
(Interfax-Ukraine/ITAR-TASS)