Kazakhstan, China Agree On Energy Export Deal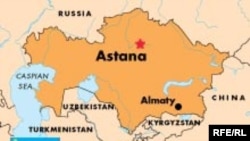 (RFE/RL) 4 November 2005 -- The head of Kazkhstan's state-run electricity company says that Kazakhstan and China have agreed on a large electricity-export project.
Kanat Bozumbaev, the president of Kazakhstan Electric Grid Operating Company, made the announcement at an international energy conference held in Kazakhstan's commercial capital Almaty yesterday.
Bozumbaev said the deal forsees Kazakhstan providing China with up to 40 billion killowatt hours per year. He said the project will take up to five years to implement at an estimated cost of some $10 billion.
He said that the completed project will make Kazakhstan the biggest exporter of electric power to China.
(Interfax/gazeta.kz)