U.S. Raises Concern About Azerbaijan's Elections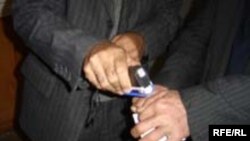 (RFE/RL) 7 November 2005 -- The United States has raised concern about problems in Azerbaijan's elections, backing the findings of an OSCE observer mission that yesterday's vote was beset by irregularities.

State Department spokesman Adam Ereli said today there were some improvements over previous elections but added that there were "major irregularities and fraud" that are of "serious concern."


Ereli said the United States was calling on the Azerbaijani government to take "immediate" investigations into these irregularities and fraud.


(AP)