Afghanistan Opens First Five-Star Hotel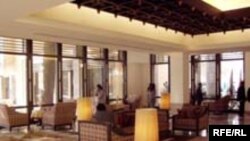 The interior of the Serena Hotel (RFE/RL) 8 November 2005 -- The first five-star hotel has opened in the Afghan capital, Kabul.
Afghan President Hamid Karzai inaugurated the Serena Hotel in a ceremony today attended by ambassadors, foreign aid workers, and other officials.
The hotel features a large swimming pool, a health club, a pastry shop, and two restaurants. Its 177 rooms cost between $250 and $1,200 a night, in a city where government salaries are only about $50 a month.
Correspondents say the hotel sits in sharp contrast to its surroundings. About 300 meters away, thousands of people live in squalor in the Murad Khani slum.
(AP)