Afghan Election Results Finalized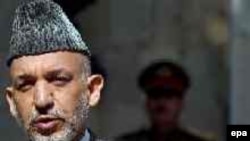 Afghan President Hamid Karzai (file photo) (epa) 12 November 2005 (RFE/RL) -- The results from Afghanistan's September parliamentary results were finalized today, RFE/RL's Afghan Service reported.
Almost all the victorious candidates ran as independents, but observers said supporters of President Hamid Karzai appeared to claim a majority of the 249 seats.
The results were originally due to be released last month but counting was slowed due to allegations of fraud that needed to be investigated.
Presidential spokesman Karim Rahimi said it was a historic moment for Afghans. He called on the country's people to accept the results and use the event to move toward democracy, peace, and stability.
The Joint Electoral Management Body (JEMB) released the results on its website.
(with material from AP/AFP)