Putin, Karimov Sign 'Unprecedented' Alliance Treaty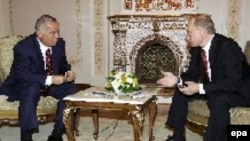 Presidents Karimov and Putin (file photo) (epa) 14 November 2005 -- The leaders of Russia and Uzbekistan today signed an alliance treaty that includes an accord stating that an attack on either country will be considered an act of "aggression" against both.
The treaty, signed at the Kremlin by Vladimir Putin and Islam Karimov, also gives Russia the possibility of using a military base in Uzbekistan.
The treaty is a sign of support for Karimov, whose authoritarian rule has left his country increasingly isolated. Karimov welcomed the agreement.
"Today, we are reaching an unprecedented level in our relationship," Karimov said. "I understand and we all understand in Uzbekistan that it is unprecedented that Russia signs such a partnership agreement with Uzbekistan."
The treaty comes as Uzbekistan's Supreme Court today
handed down guilty verdicts
in the trials of 15 men accused of participating in the Andijon uprising last May.
Human-rights groups dismissed the trial as a show, saying much of the testimony may have been coerced.
(agencies)