UN Rights Chief Says Uzbek Trial Appears Unfair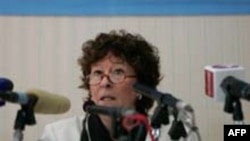 Louise Arbour (file photo) (AFP) 15 November 2005 -- UN High Commissioner for Human Rights Louise Arbour has said the 15 men convicted for their alleged roles in last May's bloodshed in the Uzbek city of Andijon must be granted an appeal.
The Supreme Court in Tashkent sentenced the men on 14 November to between 14 and 20 years in prison after finding them guilty of attempting to overthrow the Uzbek constitutional system in a bid to create an Islamic caliphate.
Arbour said in a statement late on 14 November that "serious questions" remain about the "fairness" of the trial.
Earlier, a European Union statement announced a ban on arms sales to Uzbekistan and a one-year ban on travel to the EU by 12 top Uzbek officials.
A U.S. State Department spokesman said Washington believes the convictions of the 15 men were based on evidence that was not credible and that the trial was not fair.
(Reuters)


A dedicated webpage bringing together all of RFE/RL's coverage of the events in Andijon, Uzbekistan, in May 2005 and their continuing repercussions.
CHRONOLOGY
An
annotated timeline
of the Andijon events and their repercussions.