Azerbaijan's Opposition Refuses To Recognize Election Results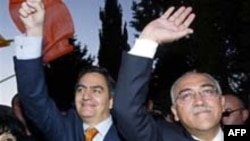 Opposition leaders Isa Qambar and Ali Kerimli at a rally on 3 November (AFP) Baku, 16 November 2005 (RFE/RL) -- Some 500 opposition candidates for parliament in Azerbaijan's 6 November general elections met today in Baku to demand the cancellation of the official results and a new vote.
A draft resolution to be agreed at the meeting said the vote was neither transparent nor fair.
According to official results, the ruling Yeni Azerbaycan (New Azerbaijan) Party took about half of the seats in the 125-
member National Assembly.
Western monitors have said the poll failed to meet international standards.
Urdur Gunnarsdottir, a spokeswoman for the Organization for Security and Cooperation in Europe, told RFE/RL today that
an OSCE team will remain in Baku until all complaints have been dealt with and final election results have been issued.
"The OSCE team is still in Baku and will remain there for another two weeks because, as we see, the election is not over
until all the complaints have been dealt with and the final results have been issued and any other issues that derive from
the elections have been clarified," she said.
Since the vote, election officials in Azerbaijan have annulled the outcome in four voting districts.
(Turan, , RFE/RL's Azerbaijani Service)

A photo gallery of the Azerbaijan opposition protests in Baku on November 9, 2005.