London, 22 November 2005 (RFE/RL) -- Profits from illegal opium production in Afghanistan represent 60 percent of the country's income. Efforts to eradicate a crop that accounts for such a massive share of the nation's economy are doomed to failure. So says Emmanuel Reinert, the Executive Director of the Senlis Council, an international drug policy advisory forum. Last year, a United Nations report said Afghanistan would become a "narco-state" run by drug lords if nothing were done.

The feasibility study by the Senlis Council claims there is an alternative, namely, a licensed plan to grow poppies for global medicinal production.
"The World Health Organization and the International Narcotic Control Board underline that there is a big shortage of morphine and codeine in the world," Reinert said. "Actually, 80 percent of the world's population is only having access to 6 percent of it. That really tells you a lot about the potential need for morphine and codeine made in Afghanistan."
Many Advantages
Reinert spoke to RFE/RL after a seminar organized by the Senlis Council at London's Chatham House (formerly, the Royal Institute of International Affairs). The council's study listed the advantages to Afghanistan of a licensed production of opium for medicinal purposes: It would be commercially viable, help satisfy global demand for opiate-based medicines such as morphine or codeine, earn Afghanistan substantial revenue, and eliminate the illegal production of opium -- said to account for about 87 percent of global supply -- that is now controlled by various criminal mafias. It would also provide legal means of support for thousands of impoverished poppy-growing farmers.
Raymond Kendall, Honorary Secretary-General of Interpol, spoke at the seminar about the program's international security dimension. He pointed out that enforcing the rule of law presented a major problem in some provinces. A licensing program could significantly improve the situation, particularly if traditional local government structures such as the jirga and shura were involved.
Speaking to RFE/RL, Kendall said he was initially skeptical about the Senlis Council plan. But with more details available, he now believes it to be viable, as well as potentially having an important impact on security.
Impact On Security
"The real issue is -- when we talk about security -- we all know about Al-Qaeda; we all know about people going to Afghanistan for training," Kendall said. "If you don't change the present environment, where 100 percent of this opium growth is taking place in a completely illegal situation, then the risks in relation to other types of extremist activity are much higher."
Paul Flynn, a Member of Parliament for the ruling Labour Party, told RFE/RL that he supports the licensing program because the current eradication effort has been very costly and not very successful.
Flynn says Britain has already spent 115 million pounds ($200 million) on eradication, resulting only in a 2 percent crops reduction, and intends to spend even more on what he calls this "mission impossible" of the international community.
But Flynn sounds very optimistic about the outlook for the Senlis Council's proposals.
"This is the only bright idea in town," Flynn said. "Why on earth don't we legalize the opium production in Afghanistan, and send it into the world markets? It makes sense in every way. There is no other good idea on offer."
Ahmed, a journalism student from Afghanistan in London, also spoke at the seminar. He was expressed concern about controlling the output of opium, but otherwise he said the scheme could work.
"I like the scheme, and I think that if the work on that just allowed a bit more, this is somewhat feasible in Afghanistan, but, I think, in the long run," he said. "Not now, because the situation is not conducive enough to implement this policy successfully."
The Local Level
Gulalai Momand, deputy country manager for Afghanistan at the Senlis Council, says the council will continue research into how the program might be carried out at the local level.
Only when it has been determined that the whole plan is a feasible alternative to eradication would it be presented for implementation. Hopefully, with the full backing of the international community, Momand asserts.

Iran's Drug Problem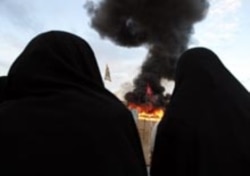 READ
DRUG USE ON THE RISE:
The Iranian approach to drug control is very relevant to the rest of the world, because Iran's neighbor, Afghanistan, is the world's leading producer of opium. Iran leads the international community in global opium seizure rates and it is second to Pakistan in opiate seizures, according to the UN Office on Drugs and Crime. Iran also leads the world in the prevalence of drug abuse (2.8 percent of the population aged 15 or older), according to the UNODC.
(more)
See also:
Iran: Country's Drug Problems Appear To Be Worsening
New Ways Considered For Tackling Growing Drug Use Among Young Iranians


SUBSCRIBE: For weekly news and analysis on Iran by e-mail, subscribe to "RFE/RL Iran Report."