Political representatives of Bosnia's Serbs, Croats, and Muslims reached the agreement during talks in Washington marking this week's 10th anniversary of the U.S.-brokered Dayton Accords. That deal stopped a 1992-95 civil war, but also established a political system that enshrined ethnic divisions.
In a statement distributed by the U.S. State Department, Bosnian leaders did not specifically commit themselves to creating a single presidency.
But U.S. negotiator Nicholas Burns has said that a joint pledge from the Bosnians on reforming their constitution would lead inevitably to such a single entity.
A formal announcement was expected later today by U.S. Secretary of State Condoleezza Rice.
(AP/Reuters/AFP)
Meet The Newsmakers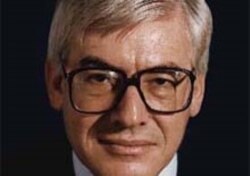 As part of its coverage of the 10th annversary of the Dayton Accord, RFE/RL spoke with Christian Schwarz-Schilling, who served as an international mediator in Bosnia-Herzegovina for nearly a decade and is now Germany's candidate to succeed Britain's Paddy Ashdown as the international community's and EU's high representative in Bosnia-Herzegovina.
(To listen the RFE/RL's interview with Mr. Schwarz-Schilling, click
here
for Real Audio or
here
for Windows Media.)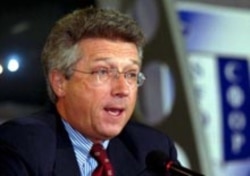 RFE/RL also spoke with Wolfgang Petritsch, the international community's high representative in Bosnia-Herzegovina in 1999-2002.
(To hear RFE/RL's interview with Mr. Petritsch, click
here
for Real Audio or
here
for Windows Media.)