Bosnia, EU Begin Stabilization Agreement Talks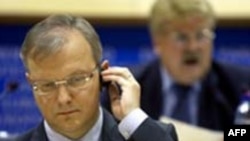 EU Enlargement Commissioner Olli Rehn (file photo) (AFP) 25 November 2005 -- European Union Enlargement Commissioner Olli Rehn is due in Sarajevo today to formally start talks between Bosnia-Herzegovina and the European Union on a Stabilization and Association Agreement.
The Bosnian government said in a statement Rehn will meet Bosnian Prime Minister Adnan Terzic at the start of the talks, which could lead to Bosnia's eventual membership of the EU.
Fabrizio Barbaso, the European Commission's director general for enlargement, has said the talks -- which were approved by EU foreign ministers on 21 November -- may take one year.
(Hina)